Blue cornmeal made its way into my shopping cart last week. I just couldn't resist it when I spotted it in the bulk section. Since Dustin isn't a huge fan of cornbread, I had to put my recipe dream machine to work. Did I really just call my brain a recipe dream machine? This whole food blog thing is obviously going way too far.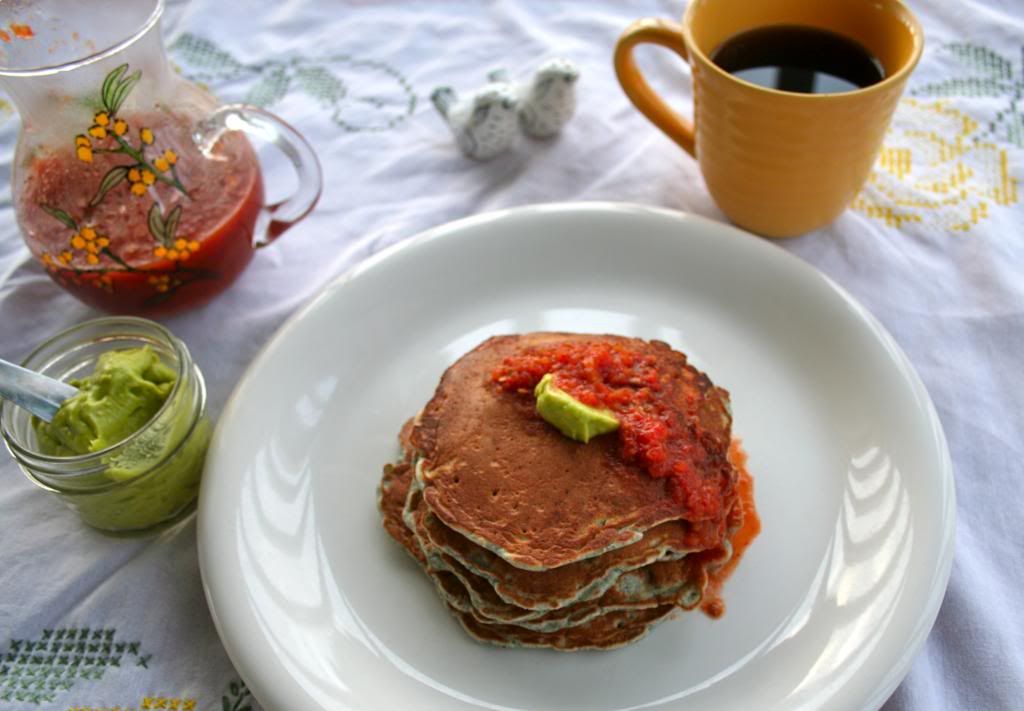 Let's have some fun with pancakes. It all starts with blue cornmeal, a little fresh corn and some playful toppings that resemble the usual butter and maple syrup. But don't get tricked, these pancakes are anything but sweet. If you are not into making the "syrup," salsa would work just fine.
These would be great served with sausage and eggs. Breakfast for dinner!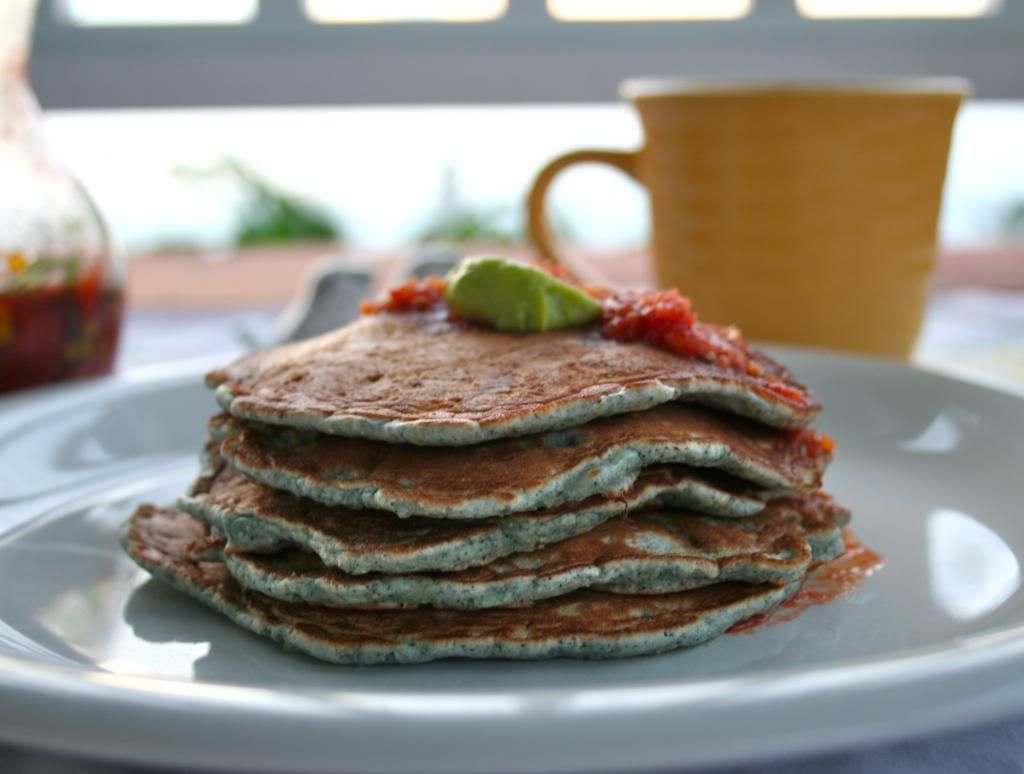 Blue Corn Pancakes with Garlic Avo Butter & Tomato Chipotle Syrup
pancake recipe adapted from
Closet Cooking
makes about 12 four inch pancakes
For pancakes:
3/4 cup flour

1/2 cup blue cornmeal (regular works, too)

1 tsp baking powder

1/2 tsp baking soda

1 TBL sugar

1/2 tsp salt

1 cup milk

2 eggs

2 TBL butter, melted

3/4 cup corn, about 1 ear (frozen is fine, too)
1/2 head roasted garlic (about 6 cloves)
1 can chopped tomatoes (with juice)
2 chipotle chiles in adobe
In a food processor or blender add the can of tomatoes to the chiles, sugar, and some salt. Blend until smooth. Dump into a small sauce pan over medium heat. Simmer for about 10 minutes. Set aside.
In a food processor or blender add the avocado, garlic, lime juice, and some salt. Blend until smooth. Taste for adequate salt, set aside.
In a medium bowl mix together flour, cornmeal, baking powder, baking soda, sugar and salt. In a separate bowl, mix melted butter, eggs, and milk. Add wet ingredients to dry and mix until just combined, try not to over mix. Fold in corn.
Add dollops of pancake batter to a hot skillet, flipping when bubbles appear in the batter. Top with "butter" and "syrup" and have fun. Enjoy!